Friday, July 14, Winston-Salem, NC: The North Carolina Speculative Fiction Foundation is proud to announce the winner of the 2023 Manly Wade Wellman Award for North Carolina Science Fiction and Fantasy, the result of juried selection from the list of 10 finalists.
The Award was presented at ConGregate 9 on Friday, July 14, 2023 in Winston-Salem, NC, to Pittsboro author Ursula Vernon, writing as T. Kingfisher, for Nettle & Bone, published by Tor Books: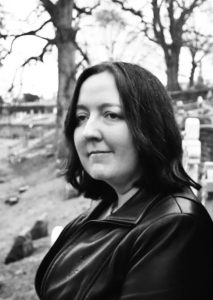 Kingfisher's novel, also nominated for the Hugo Award, the Nebula Award, the Locus Award for Best Fantasy Novel, and a Goodreads Choice Award, is "an original and subversive fantasy adventure" (Tor Books) where Marra, the third daughter of a small and imperiled kingdom, must rescue her older sister from the clutches of a powerful and abusive prince, after the untimely and mysterious death of their oldest sister after being wed to him in a political alliance. To do so, she must complete three impossible quests, starting (as the novel does) by building a dog of bones and sewing a cloak of nettles; but it's only after her quests are completed that the real mission can begin.
Accepting her award with prepared remarks, Kingfisher wrote:
It's a great honor, as a North Carolina writer, to receive the Manly Wade Wellman award for my book, and I'm sorry I can't be there in person to accept. As it happens, I was reading one of the Silver John books the other day and fell down an Internet rabbit hole, which I'm now going to inflict on you.

Silver John frequently references a book that he learned many of his various spells and incantations from, called The Long-Lost Friend. I had assumed this was as fictional as The Necronomicon, but as it turns out, it really existed. It was a Pennsylvania Dutch grimoire published in the early 19th century by a folk healer named John George Hohman.

I could frankly write pages about this, but [the award presenter] has to stand up here and read them and probably doesn't want to spend his whole day reading about obscure magical folk remedies, so I'll just mention one particular tidbit from the book, which was that if you sew the right eye of a wolf inside your right sleeve, you will be immune from all injury.

I admit, I'm still wondering about the … err … practical details there … the squishiness … well, you know. Also, obviously the best time to be immune from injury would be when you're trying to get the eye off the wolf in the first place, but that's neither here nor there. Clearly, they just don't write 'em like that any more. Possibly that's for the best. Anyway, The Long-Lost Friend, you can find it online, and I hope it makes your day just slightly weirder, like it did mine.

Thank you again, and I hope you all have a lovely evening.
Kingfisher joins previous winners Mur Lafferty (2014, 2015), John G. Hartness (2016), A.J. Hartley (2017), Gail Z. Martin (2018), Christopher Ruocchio (2019), Michael G. Williams (2020), Natania Barron (2021), and Monica Byrne (2022).
The Manly Wade Wellman Award was founded in 2013 to recognize outstanding achievement in science fiction and fantasy novels written by North Carolina authors. The 2023 award covers novels published in 2022 and marks the 10th presentation of the award.
The award is named for long-time North Carolina author Manly Wade Wellman with the permission of his estate.