Monday July 12, 2021, Durham, NC: The North Carolina Speculative Fiction Foundation is proud to announce the winner of the 2021 Manly Wade Wellman Award for North Carolina Science Fiction and Fantasy, the result of juried selection from the list of finalists, in turn the result of juried selection from an eligibility list of over 60 titles.
The Award was presented at ConGregate 7 / DeepSouthCon 59 on Saturday, July 10, 2021 in Winston-Salem, NC, to Chapel Hill author Natania Barron for Queen of None, published by Vernacular Press: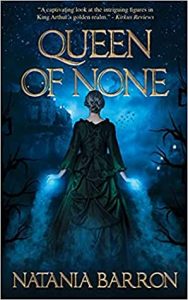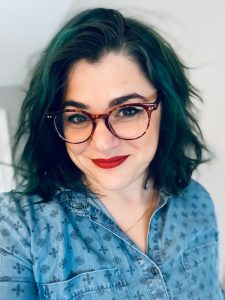 Barron's novel recasts the familiar landscape of Arthurian legend from the point of view of Anna Pendragon, younger sister to King Arthur, foretold by Merlin to be "forgotten". Married off to Lot of Orkney barely into her teens, she returns widowed to court twenty years later to deliver the crown of Orkney to her brother, joining her oldest son Gawain, grown distant after years apart. Merlin's thumbs remain on the scales of power, and a second political marriage looms on the horizon. Meanwhile Anna's older half-sisters are at turns either implicated as Merlin's apprentice, or outcast as uncontrollable witches. War is coming, along with Christian priests, and if Anna is to find happiness, let alone peace, she will have to discover a power of her own.
Accepting the award, Barron said that she was "humbled", adding:
Thank you to everyone, the judges, staff, everyone who has been part of this. My family who's here. I'm from Massachusetts; my mom is French-Canadian, I don't even know how I ended up down here but it has totally become my home.

This book was a book that I wrote in North Carolina, after getting my masters degree studying medieval literature at UNCG. It was the thesis I wanted to write about missing Arthurian women in the Arthurian canon. What's even funnier is that my future publisher, J. M. McDermott, was someone I first met at a NC Speculative Fiction event some ten years ago.

But I wouldn't even be writing at this point if it wasn't for John Hartness and Falstaff Books, and the group that has really invigorated my career when, about five or six years ago, I wasn't sure I was going to keep writing… after getting "everything I wanted" in writing, and finding out that that kind of sucked. So, if you're a writer, if you feel that you're struggling, if you want to tell stories, find your community, find your people, you never know what is there–and that's one of the things I love so much about being here, and being part of this. We're so incredibly lucky. Thank you to everybody.
The awards ceremony also recognized last year's winner, Durham author Michael G. Williams, who presented this year's award.
The Manly Wade Wellman Award was founded in 2013 to recognize outstanding achievement in science fiction and fantasy novels written by North Carolina authors. The 2021 award covers novels published in 2020.
The award is named for long-time North Carolina author Manly Wade Wellman with the permission of his estate.